Assigning session owner to appointment based service
login>home>menu>unassigned clients

The users who are given the rights to assign session owners and who have access to unmapped console can assign clients to those members who are not assigned. Only Appointment based services will be visible on this page.

Name of client




Purpose with no of sessions




Centre name




Unassigned age




Price of membership



Staff app will display list of members for whom the session owner is not assigned.

Only the user with rights will have access to this page.

Using this page, the staff can assign session owners using the following steps, a list of clients with unassigned session owners and an option to assign the session owner from the same page.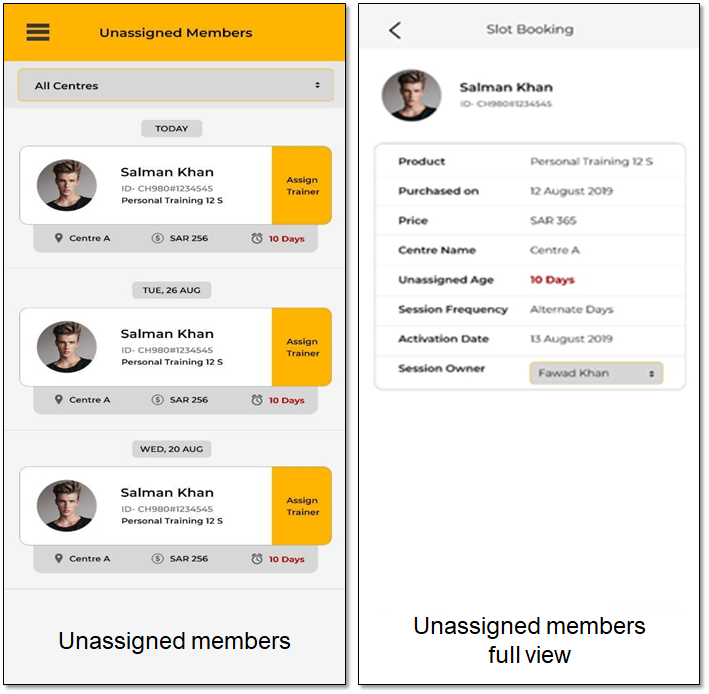 On clicking a client tile a detailed view with the following information is displayed.
Purpose name




Purchases on date




Price of membership




Centre name




Unassigned age




Activation date




Session owner



The list of session owners from the drop down will be based on the purpose selected by the member and availability and access of the trainer at the center.

Related Articles

Session owner creating availability

Session owners can create availability through My availability page. Click on the Edit icon and select the slot to mark availability and save the selection. The availability will be created. Basis of the availability created the slots will be ...

Booking appointment for member

The trainer can book an appointment by tapping on an empty slot that is tagged New Event. On clicking the new event option the session owner will be directed to a book appointment page. The date and time field will be pre-selected based on the slot ...

Appointment attendance

On clicking a booked appointment from my schedule page, a full page view to mark the member's attendance will be displayed with the following details. Member image, name, member ID Booking for Date of appointment Time slot of appointment Name of ...

Accept and reject appointment

On clicking on an appointment requested by the member (shown as dotted) from my schedule page a full page view with the member details will be displayed along with an option to Accept or Reject the appointment. This page will have the following ...

Appointment Booking - Calendar Feature

This feature will enable to create an Appointment in the Calendar Feature. Appointment booking can be paid or free for all like Trial or free for members. The feature depends on the configuration of the purpose that allows the staff to create the ...