Click on the buy membership option on the dashboard.
Buy Flow- Step 1

Using the filters, Click on the membership type you wish to purchase → Click on Add option of the product to be purchased.

In order to show the product under Membership Filter, the product should be configured as : Is this Membership consider base Membership and Product to be either Home or Passport Membership product.

On clicking the add option, a pop-up will be seen that shows the product details to the customer → Click on the continue on the product details pop-up.

On clicking the continue button, if any terms and conditions are configured for the product then the pop-up or 'Terms and Conditions' will appear → Click on Agree on the Product Information pop-up.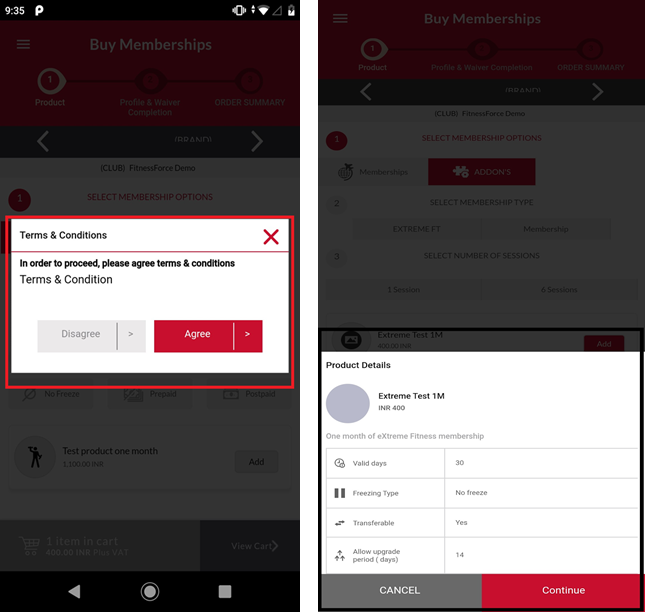 Buy Flow - Step 2

On clicking the Agree button, profile completeness page will appear, if the customers emergence contact name-number, and national Id details are not filled, then before purchasing the customer will have to fill in the details, post filling the details → click on View cart.

On Clicking on view cart, if waiver is not signed by the customer ever before, then waiver page will appear and customer will have to sign the waiver via OTP → click on view cart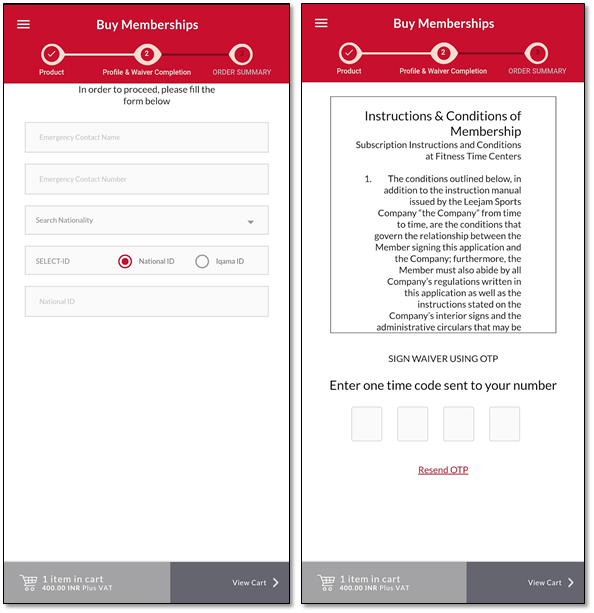 (Note: If the customer's profile details and Waiver is already filled then Step 2 will be skipped and directly customer will be directed to Order summary page i.e. Step 3)

Buy Flow - Step 3

On Clicking on View cart, the system will redirect the member to the order summary page where the selected product summary will be displayed. The employee referral code, gift voucher code and coupon code can be entered in the respective fields on order summary page.

(Note: Every Employee whose user Id is created in Fitnessforce will have an employee referral code, which is generated automatically by the system at the time of user creation → Login in web application → Users→ User List→ Edit User→ Refer 'Referral Code' field . Upon entering the employee referral code, the employee will become the client representative of that particular purchase, otherwise the client representative will be Admin for any purchase done via Mobile application.)

Click on proceed to pay to complete the payment process.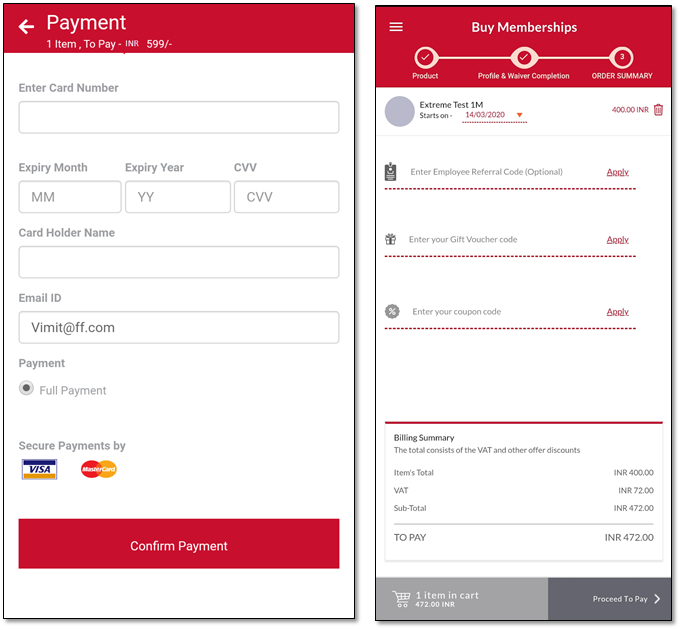 On completion of the payment process, the customer will be directed to Payment successful page. One copy of the invoice will be sent on registered email id (provided email configuration is done for the centre) and also can download the receipt from this page.